They say a Pen is mightier than the sword. A saying that is powerfully true. Starting from being the reason of, or witnessing one of the most important moments in any individual's life to giving shape to world history, it is incredible if you think the importance of a pen in our world! And what's better than to give shape to incredible things with equally incredible pens! Given below are 5 of the world's most unbelievably incredible pens both in terms of their look and price!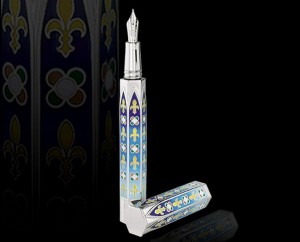 Mystery Masterpiece
Launched in February 2006 as a centenary celebration of the makers Mont Balnc and Van Cleef&Arpels, this masterpiece boasts of a white gold base studded with emeralds, rubies, saphires and diamonds! Priced at a whopping $730,000, this incredible pen consists of 840 diamonds and over 20 carat gemstones all set in a 'mystery setting' design patented by Van Cleef&Arpels!
Gotica
The incredible Gotica jewel pen, priced at $406, 453 is in itself a celebration of Gothic art. Made out of rhodium coated silver having six faces all of which are decorated with gothic designs such rosettes ad fleur-de-lis, this pen is made from 892 brilliantly cut 7.10 diamonds with 72 emeralds and 72 rubies in the rosettes!
Carand'Ache Fountain Pen
A Guinese Book of World Record Holder for being the most expensive pen once upon a time, this $265,000 SwisssCarand'Ache made fountain pen, which was made as a Antonio Gaudi homage is made with 18carat rhodium coated gold nib, 96 rubies of 32 carats and 5072 Wesselton diamonds of 20 carats! Incredible indeed!
Papillon Pen
Crafted in solid white, rose or yellow gold, the BohemePapillon pen is incredible in its exquisite design which was aimed to pay tribute to the most beautiful creature in the world – The Butterfly. Adorned with 1400 diamonds and sapphires all around the body and into the internal spring coupled with the delicate butterflies and Ketsian tendrils on the cap and the body and finished with the star shaped patent Mont Blanc diamond, this incredible limited edition pen is priced at $230,410
Prince Rainer III
This incredibly beautiful fountain pen made of 18 carat white gold, studded with 92 rubies and adorned with 996 diamonds on the exterior with the clearly visible inner part coupled with another 19 ruby studded clip ring on the cap and 2 ruby studded 18K gold nib is priced at $256,010!