China, the Far East Asian land of the dragons and one of the oldest civilizations of the world boasts of numerous unique customs, rituals and traditions that give the nation its share of distinctiveness.Here are 5 incredible day to day facts about the Chinese Culture that are fun, interesting and some even unbelievable!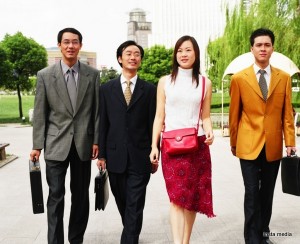 1. Highest Percentage of Male Handbag Carriers in the World
Imagine this – A big burly gym rat Asian guy happily crossing the road carrying a bright red handbag having hearts on it! Unbelievable, isn't it? But in China that's fairly common! Boasting the highest percentage of male hand bag carriers in the world, China is the latest focus of big brands such as Prada and Gucci who have just realized that they might have a big market not in Western women but in Chinese guys!
2. Biggest Migration in the world
If you thought birds flying south or the arctic reindeer holds the world record for the biggest migration than you're wrong! The biggest migration that happens in the world is during the Chinese Spring Festival when approximately 230 million Chinese people head back home from their work cities to their hometowns. The 15 day nation-wide holiday sees public transportations transforming into sea of people and a soar in ticket prices during this mass migration.
3. Early Morning Dancing
If you are in China, a typical day might start with music drifting down through your bedroom window early in the morning. When you get up to see what it is, you'd be amazed to see the nearby complexes, local parks, sports stadium, etc filled with elderly people, both men and women indulging in public dancing! Yes, a stark difference to the lifestyle of their western counterparts, elderly people in China get up early in the morning and dance, which might just be the secret behind their great shape!
4 Highest Numbers of Executions
Though not very pleasant but still incredible in its own right is the fact that China carries out executions as much as three times as the rest of the world put together! Many executions are believed to be undertaken on roads by vehicles known as death vans having injections to bring down the condemned. According to the vehicle makers, the injections are a quicker, safer and a more clinical method than a firing squad.
5. Thousand Years of Herb eating
Yet another incredible fact in the Chinese Culture is their five thousand year old tradition of including herbs in diet for long and healthy life. Most famous amongst these is the Ginseng herb that has found inclusion in the Chinese diet for almost 5000 years!