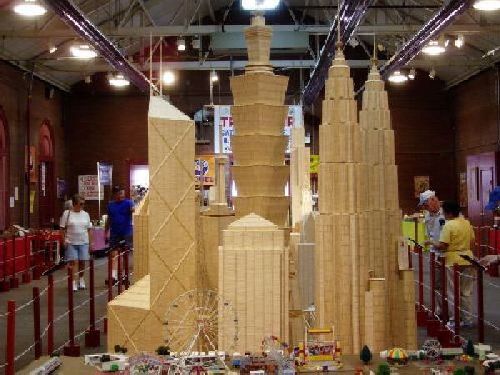 They say big things come in small packages. No wonder! This is what everyone is saying after lending an eye to the Toothpick City created by Stan Munro. He has managed to create another planet on this earth, the planet whose cement is something as simple as a toothpick!
Displaying the genius of engineering from around the world, the toothpick city showcases everything from the tallest building in the world, TaiPei 101 in Taiwan to Petronas Tower in Malaysia, Dubai's Al-Burj, Washington Monument, Eiffel Tower and so many more. Stringing all these buildings together is a 20-feet toothpick replica of the Brooklyn Bridge!

Toothpick city comprises more than two million toothpicks today and is officially the World's Largest Toothpick Sculpture. It was finally purchased by an attraction in Mallorca, Spain where, among a plethora of restaurants, galleries and attractions, the toothpick universe will be showcased in The House of Katmandu.
Artist Munro is facing a lot of questions on his remuneration and is told to admit that even though he would have made more money on ebay, this is the place where his artform really belongs! Well Munro, trust me, a piece of art can never be purchased for creativity is priceless!
So the next time, post-dinner, before putting the toothpick where it really belongs, ask yourself, "Can it be put to better use?"
Via: Toothpick City