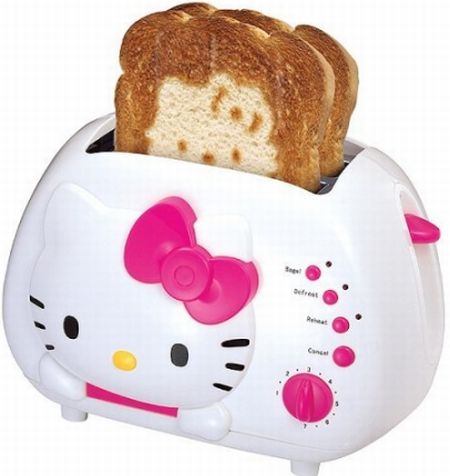 A couple of toasts and a cup of coffee is all you need to kick start your day when you are in a hurry. Outsourcing the chore of making toasts to your loved ones is half job done so that the stress doesn't catch you in the hustle and bustle of early morning.
You might as well make the job interesting and tempting enough for kids by perking up your kitchen with a funky toaster. Check out this cool toaster in pink and white from Hello Kitty that not only adds life to your boring kitchen, but also gives you toasters in the shape of your favorite 'hello kitty' character.

The toaster comes with seven heat settings and can be used to defrost, reheat and make bagels too. It comes with a removable crumb tray for easy cleaning and has extra-wide slots to warm thicker slices.
The cheerful toaster is all yours for $19.99. Get this and add cheer to your kitchen counter.