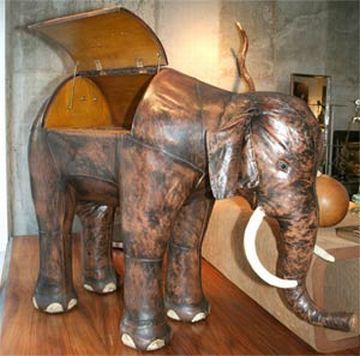 'Magnificent!' is what I yelled, the moment I saw this unique 1940's Abercrombie Leather Elephant Bar. It was created for an English diplomat who was quite fond of drinking, I guess.
It's no tiny elephant carrying miniature bottles, but a creature that stands four feet tall. Hey, to possess such a huge thing, the man needed to have quite a big living room!
It is excellently crafted with leather and wood, and has a presence, which could make you stare at it for hours! The bar insert can hold a few bottles and has room for an ice bucket. What you get is a bar, and a marvelous piece of art to adorn your living room, provided it squeezes into one!
The sight did not mention the price. You can avail it from Mantiques Modern in New York City, if the object interests you!

Via: Coolhunting