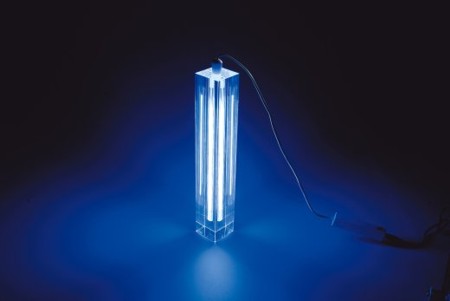 Decorative lighting fixtures come in various designs and styles, illuminating our homes in their own unique way. From being funky to simply breathtaking, there is a whole array of these beautiful lamps ready to decorate our homes. But the Takumi Sweet Icicle Lamp is essentially different from its contemporaries, atleast on the disposition part.
The lamp is designed by Japanese designer duo Maiko Watanabe and Koichi Tanaka. The USP of this amazing lamp is the bright cold cathode tube, the same which is used in most of the modern LCD screens and desktop scanners. The soft glow of this cathode tube passes through a crystal clear acrylic case, illuminating the room in a dramatic way.

A couple of these lamps placed at the right corners will lend a heavenly ambiance to your modern home. The lamps are available from Rakuten in two sizes with a choice of a blue or a white cathode tube.
The small size sells for ¥12,600 (approx. $112.00) while the large one costs ¥15,750 (approx. $141.00).
Click here to view the complete range.