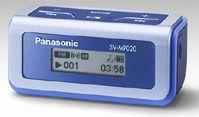 SV-MP20, is a tiny MP3 player introduced by Panasonic, would be available in US market soon. This music player can digitally re-master WMAs and MP3s. It has got a small screen which can give you the information about song name and artist name. So no scope for photos and videos.
This MP3 player is available in pink, silver and blue color, has a storage capacity of 2 GB and requires a single AA battery to operate.
It also offers 75 hours of playback. It is priced at $149.9, which is a bit too much for this gadget. Agreed its compact but it has very few features to offer and with a scenario when new music players are being launched everyday I don't think it would really hard for SV-MP20 to give a tough fight to any of them.
Also see everythingusb