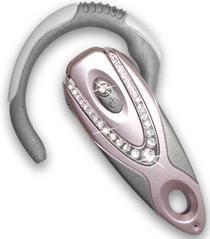 Another Gadget in Pink! Apart from the color it has a lot more features to tempt girls. Pama P7008 Bluetooth headset looks lovely with Clear Diamante Crystal. This blue tooth compatible headset comes with a memory flex rubber on the ear hook which allows you to bend it to fit your convenience.
Pama P7008 is extremely light weight and can be paired up with 8 phones or devices. It gives a talk time of 5 hours and standby time of more than 200 hours. No compromise when it comes to audio quality.
This Bluetooth headset is really chic and is an ideal fashion accessory. It is priced at £47.95.
Via Gizmowatch