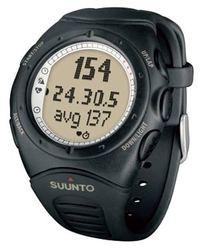 A must buy for every sportsman or woman as Suunto t6 wristop computer watch tells you how hard you have worked and how much harder you could be working. It eliminates the risk of over or under training and saves you from unwanted injuries.
Suunto t6 incorporates chronometer along with a stopwatch, interval and lap timer, barometer and thermometer. Unlike most of the heart rate monitors t6 measures the varying times between each heartbeat. This translates into an Excess Post-exercise Oxygen Consumption (EPOC), the final assessment of the training effect.
This Computer watch enables you to extract maximum out of your exercising schedule by minimizing the wastage of time and energy.
Earlier Suunto came up with Suunto x9i, claimed to be the smallest and lightest wristop computer with GPS.
For Details techdigest