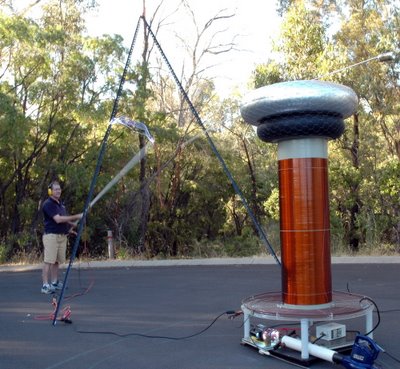 The setup you see above is a less than full sized frame of the Tesla Christmas Tree, the first step of its construction after deciding on the best technique of getting a tree shape.
In the following steps, a rope would be strung between two trees about 20 feet at the ends to make the star perch high up,. This won't support a large weight but may stabilize a tall structure. The whole thing is still 15ft high.A 3.2 m (10 ft) fishing rod with the end wired to the Tesla coil will be used to place sparks to the frame. There will be an earthed cable clipped on halfway for safety.

Different colors will be achieved by using a color filter setup. This gets changed during exposure and in the final shot the tree trunk sparks are red, the tree shaped sparks are green and the star sparks are golden. The color filter setup in front of the camera will need to be rotated manually at the correct time to change colors.
What you see below is the tree completed after the designer has taken a lot of pain to put it up. If you are interested in viewing the intermediary steps, do visit the website.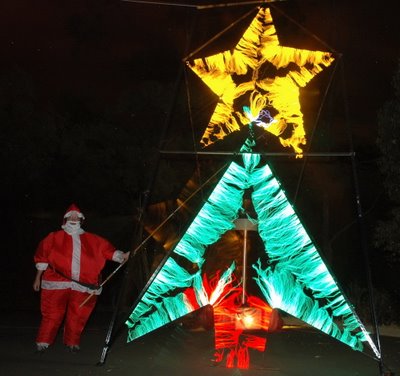 This photo shows the maker in the Santa costume. The tree is inflatable and cost $29.99. This is a single photo from a Nikon D70s digital camera and is a 91 second exposure of a real functioning Tesla coil and is the result of perhaps 50 hours of preparation. It is cropped but otherwise completely untouched. The autho emphasizes that it is not photoshopped.. It does however achieve the result using special effects.
Merry Christmas!
Source : Fun Fever