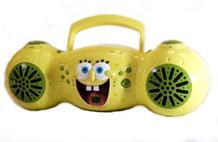 SpongBob is everybody's favorite and here is a SpongBob CD player for fanatics and SpongBob lovers. It can play CDs, radio and stream videos wirelessly.
You read it right, this CD player is not what it seems to be, this product is being sold by PiGear. PiGear is a site that mainly deals in spy gadgets like spy cameras and detection system for spy cameras etc.

PiGear's SpongBob CD/Radio player allows monitoring up to six cameras from any internet-connected computer or any compatible mobile and boasts of streaming high quality professional images with high detail. PiGear also offers wide range of options for adding addition spy camera items like clock, VCR, DVD player, emergency light etc.
I know that you are tempted to spy on your soul mate to make sure that he/she isn't cheating you but this won't be a cheap deal. SpongeBob CD/Radio player is available for $399.95.
Via: ChipChick