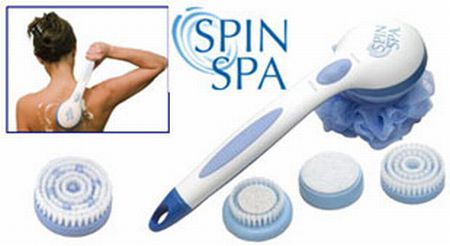 Hey you all bells and beaus, wanna look much younger than your age? Obviously, a dumb question to ask but this desire can burn a deep hole in your pocket. What if you shake-up the whole deal in a cost effective way? You obviously can but then you really need not to go in the professional hands or in a spa saloon for that matter. Yes, because now here comes the spin spa brush that will make you feel like in professional hands while chiseling your skin to look younger.
Yes, this Spin Spa brush that runs on AA batteries, is unique and soft on your skin. It'll not only remove your dead derma, but also enhances blood circulation and nourishes your skin to make it look luminous shedding behind your age.
This Spin Spa proportionate microkernel scrub adds to the joie de vivre, rejuvenates your skin, and make it radiant all the way to perfection. Spin spa microkernel scrub along with liquid soap and shampoo bottles make your massage feel like heaven with its rotating scrubber to improve areas of cellulite problems as well.
You can fill in spin spa soap and shampoo in the brush, however, this tight device shouldn't be immersed in water. I think this revolutionary scrubber is here to outdo the massage experts. Great, isn't it?