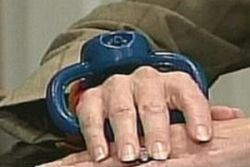 It's Spider-Man, the so-called fictional superhero who fights against crime. Florida-based inventor, Domoinique Torrence, took the basic idea from that superhero while developing the above gadget that can provide you extra protection from physical attack.
The Spider-Man bracelet is a pepper-spray bracelet, worn around the wrist as shown in the image. It is activated by a button located in the palm of the hand. Using the bracelet, you can move your wrist and fingers flexibly.

It comes with pepper spray cartridges. Thus, you simply need to bang the button in your palm to disband the irritant into the attacker's face. Torrence says that you can hold your books, you can jog and if you are attacked, it's still secured to your hand.
The gadget will be available during the end of 2007. The price of the bracelet is around $30.
Via: Crunchgear