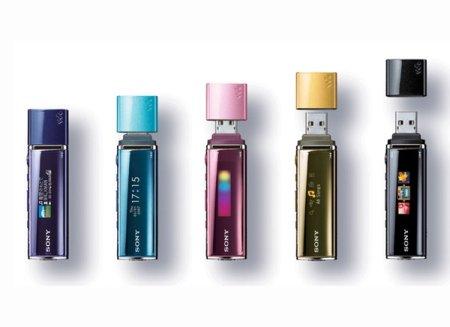 Sony is now targeting girls with the launch of its lipstick-shaped compact MP3 player, called 'Walkman NW-E013' in Japan market on December 19, 2007. Sony is bringing lipstick shaped compact MP3 player in black, violet, pink, blue and gold colors. However, the earphones comes only in the black and white color.
The display of the 'Walkman NW-E013' is a full color with three-line LCD screen and weighs a paltry 28 grams. The player has 1GB of song storage and its is ready for MP3-, WMA-, ATRAC- or AAC-encoded tracks to be copied over from a PC. Sony claimed that player can play music for 30 hours on a single charge of the gadget's in-built battery or three hours.
The other features of the MP3 player are given below:
1.1GB with capacity of up to 700 tracks.
2.Direct USB plug for ease of use; Lithium-ion rechargeable battery with great Stamina of 30 hours.
3.Clear Stereo and Clear Bass sound enhancement systems for superb sound quality.
4.Bright and clear 3-line LCD Color Screen display for easy navigation and to see CD cover art.
The Sony Walkman NW-E013 will begin selling in the Japanese market with retail price of approximately US $102.
Image: Aving