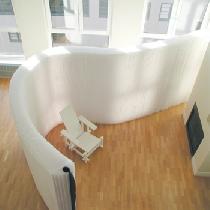 Great Wall of Paper! Seems like a fascinating way of creating dynamic partition and to enjoy privacy at the same time. Softwall is a paper wall that can be arranged almost in any shape. Paper Softwall appears delicate but its honeycomb design allows its normal handling. This awesome Paper Wall is freestanding, lightweight and can be compressed easily to store when not in use. Softwall has a width of 12″ or 30cm and can be expanded from 1.5″ (3cm) to over 25′ (7.5m).
Soft wall can reduce noise and can transmit as well as absorb the light. It is made up of 400 fine layers of fire retardant paper, honeycombed translucent white bounded together with natural wool felt ends.
These thick felt ends form casing when the wall is compressed and works as handle when open. These ends also have Velcro fastners, which has the capability of linking walls together.
A single person can also open it but the task becomes easier if there are two. Softwall can't be altered and cannot support weight but can be dusted without getting wet. Though it is treated with a fire retardant then also do not place it too near to a heat source or open flame. It is completely reversible.
It weighs almost 7.7 kg and is available in white paper having natural felt grey colored ends. It costs $890 and available at molodesign.