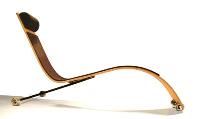 Comfy and Elegant. A must buy for every household. After 100% Design Show (2004) in London, it has become a hot pick among many elites whether it's Australian Skaters or French Film Divas.
This slim shaped Alet chair gives you enough comfort while listening to music, reading, watching TV, Laptop work and so on. Neoprene rubber and Birch Ply along with skateboard wheels make the flex of the chair more comfortable.
Alet Chair landed up in the market in August 2005 and its carbonfibre version will be available very soon.
For More Details iglanddesign