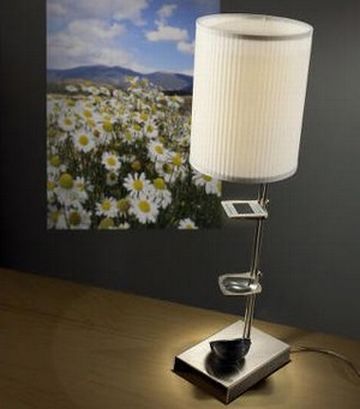 Whenever you are back from a trip, showing off the pictures to your pals is a routine job, with the help of digital cameras or video projectors.
But, we have something unique for you to try out on your next vacations, it's the Slide Projection Table Lamp, which brings back the era of the slides.
The stainless steel Lamp is the work of the French, handcrafted in Lyon.
The streamlined polycarbonate lampshade focuses light down from the inside of the shade, right through a condensing lens and a slide, with the help of a reflector, onto your wall or ceiling.
The result? – You see your pictures on your wall and so do your friends in the packed room! (Who cares how interested they are to watch them).
You can adjust the focus and angle of projection with the touch of a dial, making the projected image as large as you desire. It comes with a replaceable 12-volt bulb.
If the thing fancies you, dish out $249.95, maybe you are the first to get one!
Via: Redferret