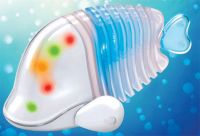 Fish that can survive without water and can sing for you! Sega's new iFish, music player has been released in Japan. As the name suggests it has a shape of a fish and more than a music player it looks like a plaything. It has a moveable tail and its two wheels allows it to roam around your desk.
It incorporates a sensor which reacts to its movements and produces light effects in its head. When connected to an MP3 player iFish responds to the beats. This tiny gadget is quite similar to iDog.
iFish is priced at $64.95.