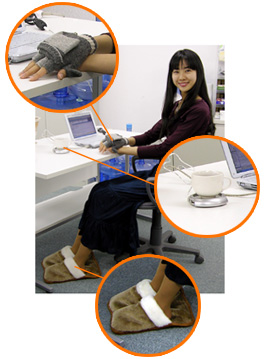 Awesome gadget, to bring some warmth in this chilling weather. Recently introduced Heated foot slippers cab be connected to your computer via any USB port and keep your feet warm while working. Its surely a relief for those who suffer from cold feet through out winters. It is fairly priced at $73.50.
Brought in by Japanese, this USB heated foot cozy has a pretty small cable length so you may require to buy an extender. Even fingerless gloves and Coffee Heating Pads are also announced.
Though these entire things don't look so attractive and your colleagues may; laugh at you for using all these simultaneously, but for me comfort occupies the topmost place.
Via Popgadget