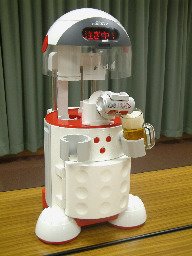 Idea of this beer pouring Robo is simply awesome. It is capable of doing all you desire and more. This Robo can chill two beer mugs and 6 cans of 350ml. Its really good at serving as well, what all you are required do is to press its start button, Robot will open the can, tilt the glass and pour the beer in it without creating any kind of mess.
What's the most fascinating thing about this Robo is that it is free. Yeah! To get one the person is required to collect 36 seals from Asahi beer cans. This contest will start from 20th February of this year and will continue till mid May. There are 5000 such Robo to be won. But Asahi is running this promotion campaign only in Japan.
I am not sure about the taste of the beer but these Robots seems Cool.
Via Oh Gizmo