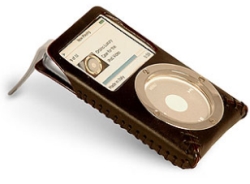 iPod Covers brought in by Orbino are the most luxurious, trendy and sleek iPod Covers I have seen in a while . These covers are stitched by hand and offer a comfortable fit to your mini iPod. Meant for all popular models iPod Video, Nano and Shuffle these cases are made up of precious Italian leather.
It comes with a spring loaded removable metal Beltclip which allows you to operate your iPod with an ease while it's attached with your belt. It also has a cut at bottom meant for dock connector and above all covers for iPod video costs just $65, unlike the other designer iPod cases which costs in triple figures but are generally are not worth their cost.
Cases for other models including Nano and Shuffle are priced at $39. Available in 5 different colors like Saddle Leather, Black Calfskin and more these iPod Cases are an amazing accessory for your most loved gadget.
Via Luxist