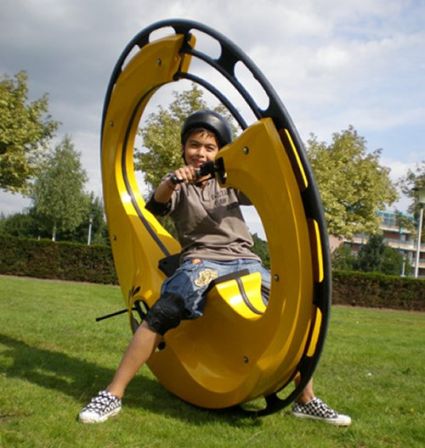 If you wanna hit the road and get noticed for sure, this unique single wheel ride is for you. This ride manufactured by Netherlands based company Wheelsurf was on display at the NextFest event, also featuring in Discovery Channel's show Beyond Tomorrow this ride is really rocking.
Powered by a Honda GX31 4-stroke engine, the WheelSurf 2007 delivers 31 cc of horsepower and 7,000 RPMs, and surprisingly it only weighs 50 kilos.

You operate it by sitting down on it like a bike, grabbing the handlebar and then accelerating/braking using the right handle. The outer wheel revolves around propelling you forward while keeping the center level with the horizon.
Steering is accomplished by moving your center of gravity (that means you) to the right, left or back to stop. Top speed is 30 km/h and a full tank of gas (65 liters) will get you about 2 hours of joyriding.
The main colors that a WheelSurf comes in are red, yellow, blue, green and white but if you really have your heart set on a purple or pink one, the company will do it up for you in your favorite shade if you can wait a month.
It's cost is $6900. If you want to watch this spectacular li'l ride in action just watch the video featured below.
Via: Slippery Brick