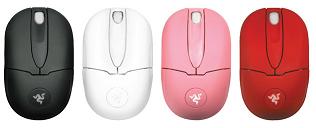 Here is good news for all of you who want a more mobile mouse. Razer the leading manufacturer of high-end electronic peripherals announced on September 14 that its latest mobile mouse will be available for shipping and purchase from www.razerpro.com from mid-October 2007.
The mouse has Bluetooth connectivity and claims to be a precision pro. Because of Bluetooth connectivity, you can use the mouse even in constrained spaces and be sure of its precision.
The mouse is Bluetooth 2.0 enabled and has high performance optical sensors that boost its precision efficiency.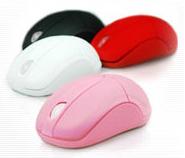 For those who like their technology to match their fashion sense the mouse comes in four attractive colors aptly named naughty, nice, sugar and spice. I'll leave you to guess which colors from the picture match the unique color names given above.
Although the cost price is a bit steep for this little wonder, I'm sure there will be a lot of takers. The MRP is $49.99 (US) and available from authorized dealers globally.
Visit the Raserpro website for more details and information about how you can order the mouse.