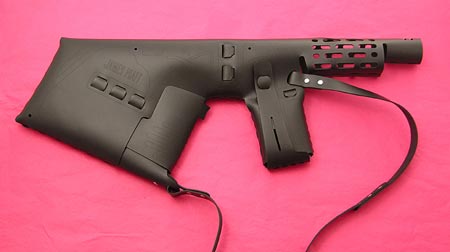 As far as creativity is concerned we can give a 10 on 10 to James Piatt, who designed 'Pursuader'(machine gun-shaped bag), but what could have been the inspiration behind it, a sexy looking terrorist with a machine gun?
The bag is not only unique look wise, but otherwise also it differs from others as it boasts of zero stitching and is made out of laser cut leather with magnet closure. The bag also combines quaint and modern looks to its advantage. It also vaguely looks like the pouches used in Arabian Nights by the travelers to carry water.
If you are not scared of trying out the fanatical modern designs then, this one might just be a pick of the moment. The designer has also come up with gun-shaped wallets and holsters and brass knuckle handbags, strangely named PeaceKeeper 300. I don't know about the functionality of these bags but they definitely are very bizarre to look at. This anomalous machine gun-shaped handbag costs you $289.
The Pursuader has a mobile phone compartment for the modern workingwoman, you can go to work armed with one of these, but that again depends on what work you do. Just don't scare of people with your machine gun.
Just imagine a killing beauty with gun-shaped bag like this. What a sight will it be? Deadly combination, indeed!
Source: Geekologie