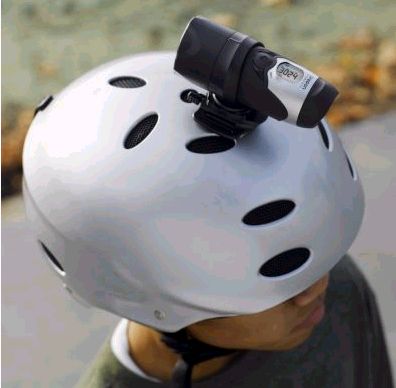 So what do you do when you pull off a real cool skateboard trick? With no friend in sight your only hope is to capture it on tape, but that is easier said than done. But how about strapping a camera onto your helmet as you endeavor to try it again?
If you answer in the affirmative then I've got just the thing for you. redENVELOPE has got a brilliant action camera that is mountable onto helmets, handlebars, surfboards etc. (all depending upon your pursuit of interest). Surfboards? Yep, I didn't get it wrong. This action camera is even waterproof. And of course it is shock-resistant.
Measuring in at a manageable 4 1/4″ x 1 3/4″ x 2 1/4″H, this compact camera can capture up to 75 minutes of video on a 2GB flash card. At 640 X 480, the resolution might not be up to the mark, but that's not a big price to pay considering the ease with which it operates. It operates on a twin pack of AA batteries.
A USB and RCA cable are shipped to connect to a PC or a TV, but the batteries have to be bought separately (they wont give you the satisfaction!). Buy it here for an affordable $130.