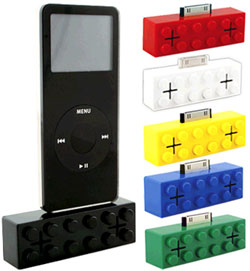 Love Lego? If you answered in the affirmative, here's a way to combine your favorite plaything with your favorite gadget. Introducing: Lego-style iPod plug-in speakers.
There is no shortage of unique looking iPod speakers in the market. But I doubt there are many that would match the retro block iPod speakers. Compatible with iPod Classic, Nano and Mini, these speakers come in a variety of colors. These are plug-in and draw juice from the player itself; this does away with any need for separate batteries and stuff. The volume control is in the middle of the two stereo speakers.

Buy them here for an affordable $25.
Via: Retrotogo