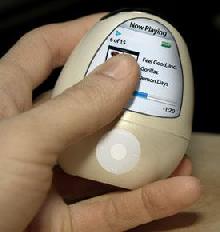 Apple finally unveiled its much-awaited iPod NaNuNaNu (Nanu 2). What makes it better then its other siblings is its durability, its light weight, its oval shape, which measures about 4 inches and of course its 3.5 LCD colored monitor. It posses a memory of 2 and 4GB and complete color album art just like Nano.
Earphones reside in the core of this egg shaped new generation iPod. Apple is planning to launch a huge Advertising Campaign to boost up the sales of NaNuNaNu. As it is launched just before Consumer Electronic Show, it will surely succeed in seducing a huge number of buyers.
You will also get a set of iPod Tunes absolutely free with the purchase of NaNuNaNu. This set includes famous hits from Devo, Kajagoogoo and Thomas Dolby.
for more info mobilemag