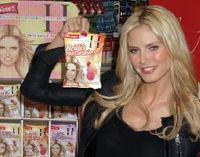 Yeah you got it right. It is a bit surprising to know but its true that supermodel Heidi Klum is having her own candy. It claims to be soft, chewy and fruity like millions of other candies in the market but what gives it an edge above others is that its completely fat free.
Candies are given interesting fun shapes, which Heidi loves to use in her personal text messages. Heidi candy is available in various fruity flavors including lemon, orange, strawberry, pineapple, red currant and cherry.
Heidi's Yogurt Dessert Cremes are also a cool delight having the zest of famous European and American Desserts like Sugar Cookie, Chocolate Mousse and many more.
No matter how it tastes and what's its price its name is quite enough to uphold its sales.
via Bookofjoe