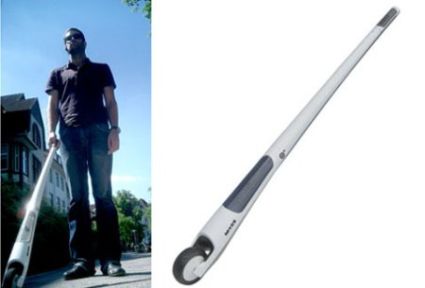 A warm and loving companion, who not only cuddles with us, but has also shown the way to our blind friends since ages, yes, I am talking about a dog, and no, I am not here to talk about it exclusively!
Sebastian Ritzler, has developed an interactive guiding system for the blind known as Mygo, which aims at replacing the seeing eye dogs, one day. Will a cold white cane take over the services of an affectionate creature is yet to be seen!

The Mygo cane is supposedly made of a sturdy waterproof material and has a height adjustable mechanism, in order to be handy for both men and women.
It is different from any ordinary cane, because it features a smart sensor and a camera combination, which measures the ground area precisely, while pushing auditory feedback to a headset. Besides, the tip of the cane has a mini wheel with a hub motor, which provides intuitive feedback through the grip, and has a battery life of six hours.
We have an ample amount of technology packed inside a simple looking cane, and that sure is a sign of an excellent maneuvering system. It has not yet entered production and is estimated to cost for $200, while the IDEA site claims that this will be available for as little as $21.
With the kind of technology stuffed in it, it doesn't promise to come cheap!
Via: coolest-gadgets