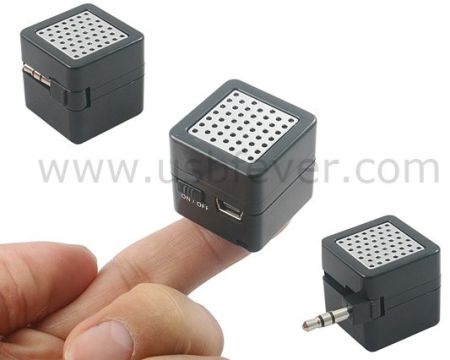 If you dislike bulgy things, and hate to crowd your bag with heavy electronic items, then this might be just the thing you would like to carry with you everywhere. The tiny speaker is like a regular dice, and rightly named the Fingertip Mini Cube Speaker. You do not have to think about managing the space in your bag to carry one of these, coz it fits right on your fingertip.
If you just go by its looks and doubt its capabilities then, hold on! This 1-inch cube speaker not only has all the required features that you need, but cleverly manages its small shape to give you more than just hanging it with your keys. It can be easily charged using the USB port, while the capable lithium batteries guarantee you 4 hours of non-stop music, anywhere and everywhere.
You can plug it to your iPods or MP3 players or even mobile phones and you don't need itchy earphones on. There is a 3.5mm Phone connector, which can be hideously folded to make the cube look little more realistic. Weighing only 17 grams, you can easily hang it with other charms in your key chain, not worrying about loosing it in you large pocket. Built-in Amplification 0.8 watts, ensures you get louder music than you expect in such a small thing.
Priced at a relatively low $9.99, you can buy couple of these to toss at your younger siblings and just see the fun.
Source: Technabob