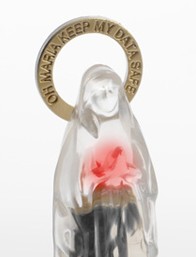 If you are among those who pray for secure data backup options then you may like the idea of 'Maria USB.'
This probably could have been worst Christmas item available this winter, only if competition wasn't so stiff. Obviously, this will have ardent followers of Christianity blabbering in the dark corner of their room and activists won't keep quite either. Using God's name for self benefit is surely not what will lead you to heaven.
This is what maker has to say about Maria USB:
Standing dignified on her socket, enshrined in Plexiglas, when work calls she frees herself of her surroundings. Connected with the computer she comes to life, her red LED heart starts to beat – in passive state slowly, quicker whilst connecting or saving data. On her halo is engraved the prayer – 'Oh Maria, keep my data safe!
But let's be neutral for the moment, one thing that still makes thing look complete failure as a product is its extravagant price tag. You'll have to shell out 69 € ($102) for just 512MB of storage. One can easily buy GigaBytes of storage for that amount.

All this for the inscription on it saying 'Oh Maria, keep my data safe!' and a red LED that blinks when data is read. I expected 'an assurance from heaven that my data will be safe' for that price or at least certified blessings.