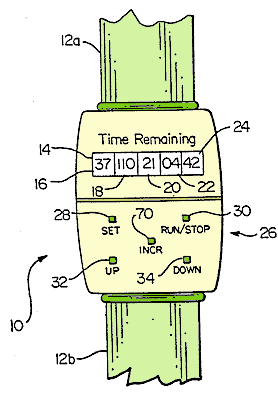 We all have faced with the wish to know when we would breath our last, sometime or the other, however creepy it may sound. It doesn't really boost your morale if you know you are going to die on this date but it doesn't hurt either to know. At least, it might prompt us to be good to each other. The joke is we all have come across the email chains and life expectancy tables while getting our insurance premium calculated, but how many of us really think about it twice. One of the weirdest inventions so far, as noted in U.S. patent 5031161, the 'Life Expectancy Timepiece', promises to give you an estimated life span.
No, kidding! This timepiece, based on the actuarial tables, starts a countdown calculating years, months, weeks, days, hours, minutes and seconds, depending on your eating habits, generic diseases (hereditary tendencies), addictions (like smoking or drinking) etc. similar to the ones used by the Insurance companies.
To be specific, the Life Expectancy Timepiece will have a microprocessor, monitoring the time passed by you, resettable memory chip, to store/restore time measures like years, months etc. A digital display to show you the very accurate (at least according the actuarial table calculations) time you are going to live. There are buttons and switches to help you reset the time and date, in case you inherit it from someone who used to have it. Definitely spooky!
Finally, if you get skittish about this product, then wait till you get it in your general good stores!However ironically, you would have to die to see if it works! You will never live to regret it! how true!
Source: Gearfuse