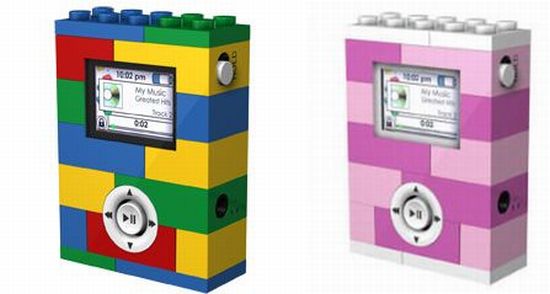 Product: LEGO MP3 Player
About: The USB 2.0 player includes 2 GB of internal memory capable of storing up to 1000 songs. The player also includes a built-in rechargeable battery, set of earbuds, USB cable and user guide. The player has a digital display and comes in two different colors – a mixture of red, yellow, blue and green or a white and pinkish combination. Colorful LEGO blocks can also be attached to the MP3 player's bottom and top.
My take: An year ago, one of my friends here at CoolBuzz wrote about a similar LEGO themed MP3 player, with a title – 'Ugly Lego-themed mp3 player'. I thought, the word ugly wasn't appropriate and the rest is history, or my submission to the writers' ego. I wonder what kinda title she would have given to the one featuring today.
Availability: Sometime this summer

Price: $40 (one year limited warranty)
Via: InventorSpot