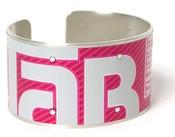 Do you know, what's the most hip accessory of the season? Bracelets made up with real soda and beer cans. Sounds interesting! On sale at Elsewares, this polished, tin accessory is rocking and has become extremely popular. Aluminum is secured to the bracelet with sterling rivets and excellent silver end caps save it from breaking.
With a width of 1 1/4″, it's a perfect fashion accessory for girls. Available in different colors and designs you can make your pick quite easily by paying $80.
If you want one then don't waste even a single minute. They are so much in demand that it will take more than 2 weeks to be made and shipped. But trust me they are really worth the wait and $80.
Via Gizmodo