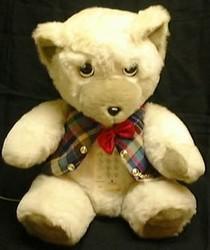 I just love Teddy Bears and it's really hard to resist this one. This adorable, cute teddy bear is actually a speakerphone. Apart from enticing you, its innumerable features support a lot of functions.
K.C. Bearifone II, has got a built in speakerphone with a full sized keypad. Its eyes and mouth are synchronized to a caller's voice. Made in Hong Kong this gadget is fully modular and has a three position finger. Its almost 15 inches tall and requires 4 D batteries to operate.
Its lavish look and soft body makes you to cuddle it just like your favorite teddy bear.
Read More redferret