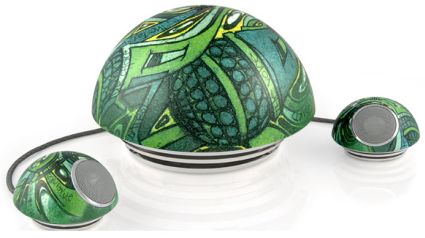 The most visible part of our music system is the speakers and sadly, they happen to be the most unglamorous part too. You have those dreary looking creatures standing in the corner, where no one puts a glance on them.
However, with the JBL Spot, speakers have donned a new look!

The JBL Spot is the first 2.1 speaker system with interchangeable covers. If you long for a more personalized look, put on the JBL Wrappers over the covers, like Graffiti, Tattoo Sepia, Fuchsia, Woodland, and many more!
You can enjoy your music from any system, with an extra advantage of flaunting your gorgeous looking speakers.
The cute speakers are not just a treat to the eyes, but they even remember your previous settings every time you switch on the system.
Therefore, you need to turn down the speakers before you power your system down. Besides, they guarantee a clean, distortion-free bass.
Enjoy the music on your cool speakers for $99.95.
Via: Coolpicking