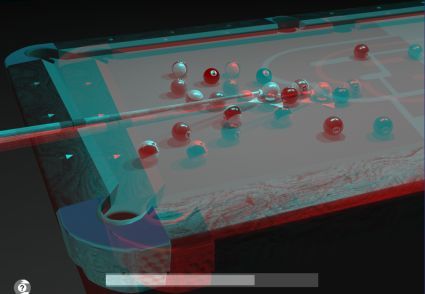 Running constantly to the pool table is not very comfortable, besides it might not be situated somewhere close by! Do we have an option left? I think we have one fantastic one here.
Heard about FooBillard? It is a free open GL-billiard game for Linux with realistic physics.

Let me be more precise, it's quite similar to the 3D movies you must've watched sometime in life, with those glasses on. You must have imagined being a part of the scene, the water gushing on to you, or the car coming straight to run over you!
The FooBillard is quite on the same principal and gives the effect of playing on an original table, while you hit the ball on the screen. Isn't that so convenient!
Your system requires the installation of either a GLUT or SDL. Besides, you need to install libpng for loading the textures and freetype2, for font rendering.
What the game features is, a wood paneled table with gold covers and gold diamonds, reflections and shadow on balls, zoom in and out, complete control with the mouse, animated queue, 3D stereo view, original sound, and a lot more, to give you the feel of an authentic billiard game!
Via: Rufadas