Peter Biddlph is a contemporary designer who slots in light with fiber optic cables along with LEDs. He feels that he has a stronger aesthetic response to form which is apparently uncomplicated, but often reveals greater complexity on closer examination enhancing it and imparting a subtle shift from one state to another. 'I find it challenging to attempt to create work that is 'quiet' yet has a strong presence', says he.
He has worked in several fields related to design starting with a degree course in Fashion and Textile Design at St Martin's School of Art, London. In December 2005 he graduated from a two-year full-time Advanced Diploma Course in Ceramics. Since then his work has won a Queensland Design Award and has been selected for several juried exhibitions.
Snap down to have a look at his interview, which we took lately,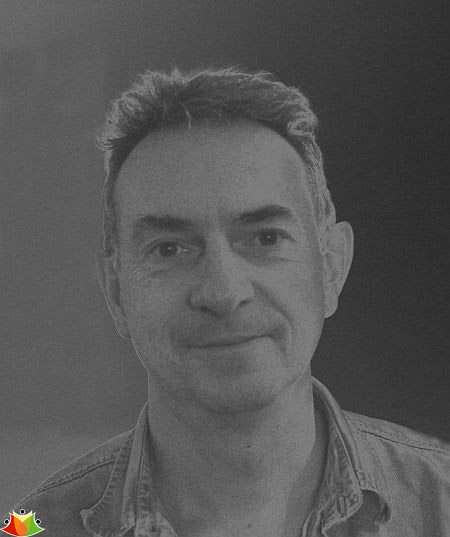 1. When and how did you decide to work with ceramics? I assume that you have special affinity for ceramics, what do you say?
Peter: Although I had experimented with ceramics on an Arts Foundation course prior to doing a degree course in Fashion and Textile Design at, as it was then known, St Martin's School of Art, London, it wasn't until later in life that I was again drawn to clay as a medium of expression. This happened through a chance meeting with the head of the ceramics department, Jill Crowley, when she joined the Information Technology class I was teaching at Morley College, London.
I started to rediscover the pleasure of working with clay on a part-time course there in 2003. I drew on my knowledge of flat pattern cutting from earlier studies in fashion design to create models out of card and, once I was happy with the form, I attempted to create the pieces from slabs.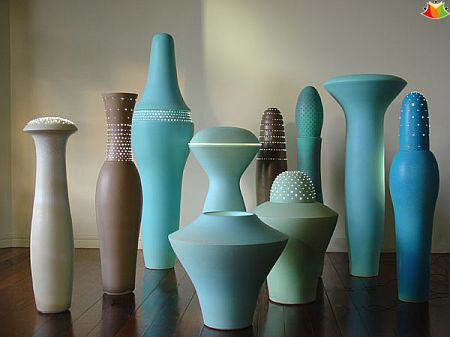 2. Choosing to work with ceramics is very rare amongst artists and designers. Where do you draw your inspiration from? Are there any other artists that inspire you?
Peter: I find I have a stronger aesthetic response to form which is apparently uncomplicated, but often reveals greater complexity on closer examination enhancing it and imparting a subtle shift from one state to another: shiny to matt; dark to light; opaque to translucent. I find the fractal quality of natural phenomena and iterative structures very appealing whether in the music of Brian Eno or Steve Reich, or in the undulating spine formations across the surface of a cactus or in the refraction of light across hundreds of windows in a high rise. Thus in the installation entitled 'voL_Luminous', although each piece may stand alone, it is in the juxta-positioning of similar forms illuminated and unified with white light that creates impact and attempts to engage the observer in a dialogue with the work.
I enjoy evolving an idea: exploring the permutations of form and expression of materials in the creation of a body of work which is self-referencing and has integrity without necessarily having explicit reference to something in the real world. Observers have likened the pieces to marine forms, jellyfish, futuristic cityscapes and exotic forests. I find that the pieces exhibit both an industrial and an organic aesthetic. I find it challenging to attempt to create work that is 'quiet' yet has a strong presence; a quality I find in the sculptures of Anish Kapoor for example. On a trip to India In 1999 I found the illuminated dashboard displays in the taxis of Buddha and other deities molded in perspex and illuminated with accompanying fiber optic cables very appealing and made a mental note that I would like to work with light in some way. I find inspiration in the illuminated cityscapes of densely populated areas such as Shinjuku and Shibuya in Tokyo. These notions, together with inspiration from contemporary architecture and industrial design, lead me to create the installation entitled 'vol_Luminous'.
The light emitted by these objects lends to their placement in rooms and hallways where subtle, ambient, nighttime light is required. Since the pieces sparkle at night I named each piece after a star and now, rather surprisingly, images of the pieces often appear in a Google image search before those of their eponymous giants.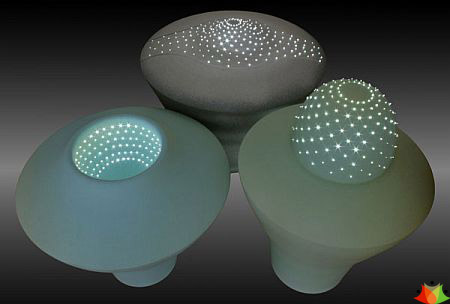 3. In 2006, you were in the Queensland Design Awards Finalist List for Vol_Luminous, how has this kind of recognition benefited your career?
Peter: Such recognition helps to bring the work of a designer to the attention of a greater number of people and confers authority; I have been approached by galleries, interior design stores and magazines in Australia, Hong Kong and the UK, and a site similar to this one in Taiwan.
I have had work commissioned by the Premier's Department of Queensland. This month my work will appear in a 100 page booklet promoting the work of Artisan, a gallery in Brisbane and a selection of my work has been included in their corporate catalogue. In November an article on my work is published in My Home, an Australian interior design magazine. I find that people are beginning to hear of my work. My website, Ceramicdesign now regularly receives over 600 visitors per month, around 15% of who are in Australia.
4. What is your favorite part of the design process and why?
Peter: The initial design stages on paper are fun and exploratory; also building card models to realize the designs is enjoyable. Throwing requires a lot of concentration and coordination and can be quite meditative. The final stage when the form has been achieved to my satisfaction is also rewarding. The best part is opening the kiln to find a piece which surpasses expectations, particularly when the glaze has worked beautifully and enhanced the form.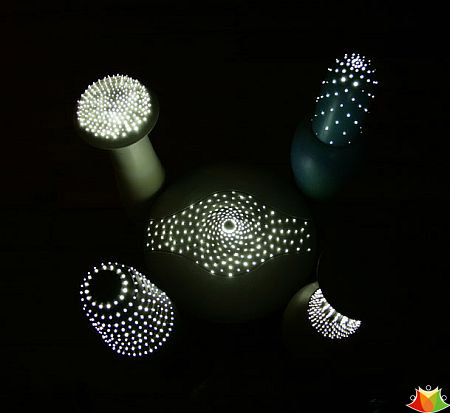 5. What is your artistic approach, I mean is there any kind motif running in your artifacts?
Peter: I had made some earlier vessels parts of the surface of which I decorated with small indentations forming patterns of dots, from this idea developed holes then the idea of spines like cacti, which I have grown for many years from seed, a fusion of industrial and organic forms. A curvilinear form that I came to refer to as a keel.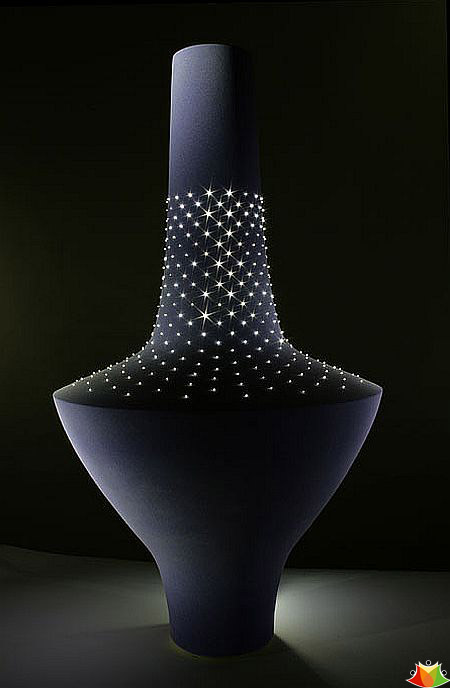 6. Do you have a signature style? If yes, what are the hallmarks of your style?
Peter: I like to think: Precision in execution of form and 'well-executed' variegated glazes which impart beauty and interest and enhance the form.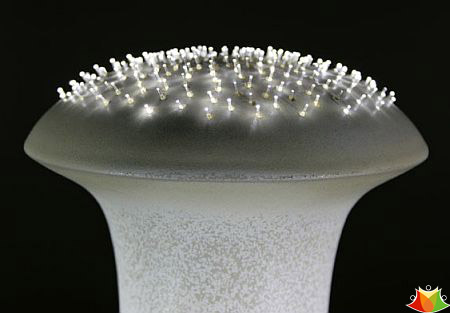 7. May we have the honor of knowing your future plans with respect to your designs? And presently, what are the interesting things that have hooked your attention?
Peter: I would like to develop these curvilinear forms into more complex asymmetrical forms combining hand building and throwing techniques together with slip casting (making forms by casting liquid caly in a plaster mould). I have long had an interest in computers and their ability to generate 3-dimensional forms; in the future I would like to experiment with rapid prototyping technologies to create ceramic objects from computer generated images.
Things that hook my attention are often computer related; the graphics of games such as Half Life 2, Linux eye candy and the power of the open-source movement in bringing alternative and quality free tools to people. The designs of Zaha hadid, the diverse architectural clutter of London. Tokyu Hands, a Tokyo department store – a craft person's heaven.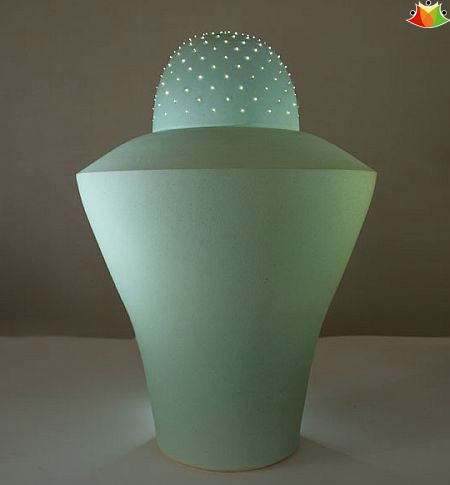 8. Any maxim, you'd like to leave for our readers?
Peter: I like the quotation attributed to Winston Churchill, a British Prime Minister: "Success consists of going from failure to failure without loss of enthusiasm."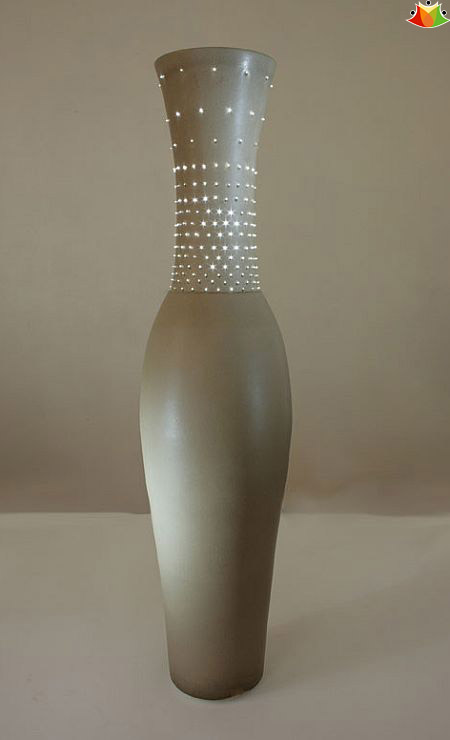 9. Finally, we'd like to have your views on Coolbuzz.org?
Peter: Coolbuzz is an interesting and varied site, one you can dip into and always find something of interest.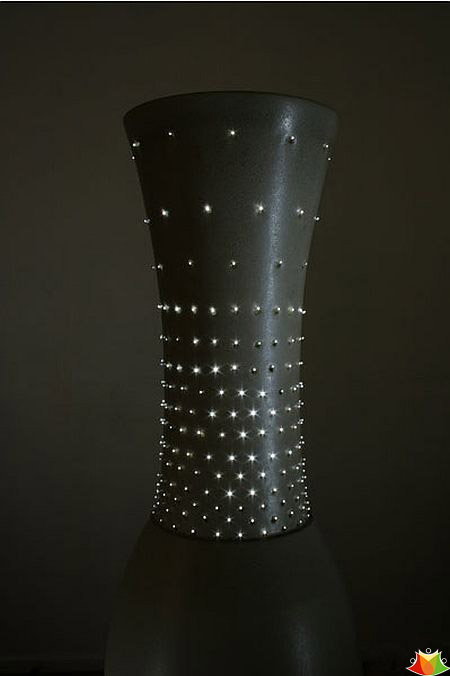 Quick bits:
What music is on your iPod or radio?
Peter: David Sylvian, Eno, Steve Reich, Baaba Maal, Underworld, Nusrat Fateh Ali Khan, Talvin Singh, FSOL, David Byrne, Orb.
Who would you like to design something for?
Peter: Zaha Hadid.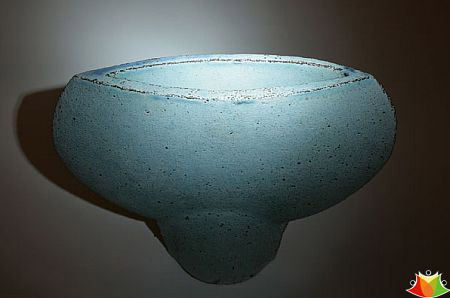 What books do you have on your bedside table?
Peter: Japan: From Prehistory to Modern Times, PHP Cookbook.
If given a chance, what would you change about the world?
Peter: The structures that limit expression.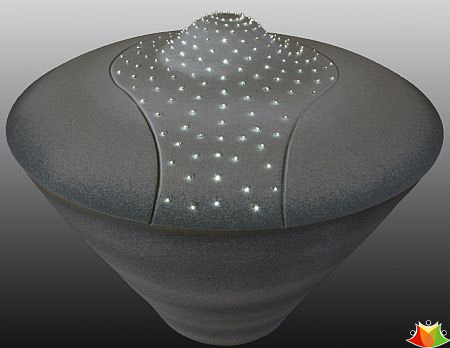 Finally, I'd like to conclude by thanking Peter, for this wonderful interview and would like to wish him luck for all his future endeavors.