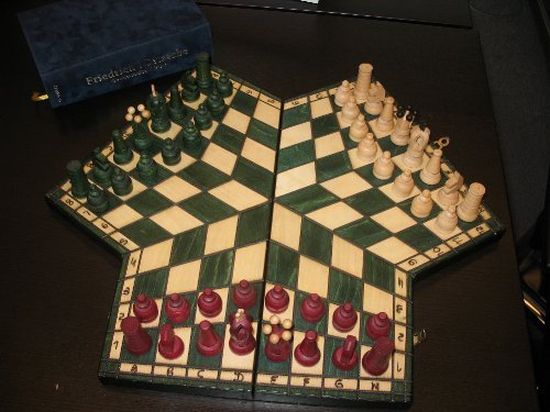 Chess is a war between two kingdoms. However, perhaps taking cue from global multi-nation wars where different allies and coalition are pitted against each other an innovation of the chess has transformed it to a war among three kingdoms. The new chess game with its new set of rules and of course, a new chessboard has made the game more difficult where the player not only has to defeat one opponent but two opponents with lot of diplomatic moves. The inventor of the game from Czech Republic has devised the following rules:

1. The players take turns clockwise.
2. The player who makes the first check-mate wins
3. The pawns move straight forward. Accordingly, half of the pawns move to the left and the other half move to the right.
4. If two players do not like the third he is doomed
5. The two players must compete for the privilege to checkmate the third.
Source: Meignorant via Geekologie