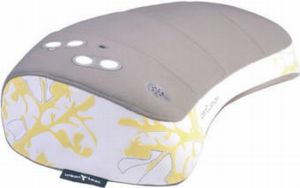 All of us love to carry a nice, stylish and sleek cell phone. In addition, it has also become quite imperative to have a hands-free accessory, to avoid carrying the handset always in our hands. But what if you are in the mood of talking a lot over the phone? Or, you are feeling too lazy to actually stand or sit upright while speaking? Or, you just do not possess a convenient speakerphone, or, for that matter, any suitable mode of hands-free mobile conversation? Sounds like a problem, right?
There is some good news for all those talkative and rather lazy callers out there! PurCushion, an innovative, stylish and extremely useful Bluetooth cushion provides the ideal opportunity for the user to relax completely while chatting on the phone. This sleek cushion boasts of several attractive features, including redialing, volume control, mute and has 8 hours of talk time. Now that is really cool and convenient!
The PurCushion has 300 hours standby capacity every time it is charged, and can even take photos. It's true that this Bluetooth device is a tad too expensive (bearing a price tag of $531), but if you love to talk for long, and have the ability and willingness to spend money to be able to relax as you are chatting on the phone, the PurCushion is indeed the right choice for you!
Source: Crave