Since prehistoric times, man started to build artificial islands for various reasons and nowadays, with the tremendous progress of science and technology, many incredibly beautiful artificial island has been built all across the world. So, here is a list of some amazing man-made islands located in various places of the world:1.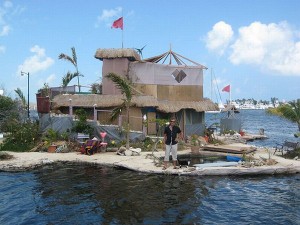 Spiral Island (Mexico)
Not everyone can afford to buy an island but if you have a creative mind then you can always build one for yourself. This is what Richard Sowa might have thought when he built his own Spiral Island by using half a million plastic bottles in the year 1998. Although some years later it was destroyed by a hurricane, but this little island made up of recycled materials had a two-storied house, self composting toilet, a solar oven and multiple beaches.
Umi Hotaru (Japan)
The Tokyo Bay Aqua-Line is a crossing bay highway connecting Kawasaki, Kanagawa and Kisarazu. It is also made up of a 9.6km underwater tunnel and a bridge, which is connected by a large artificial island, named Umi Hotaru. Being covered by beautifully designed express-ways and bridges, the island looks amazing from the above.
The World Island (UAE)
Located on the coast of Dubai in UAE, the World Island is an artificial archipelago consisting of around 300 man-made islands constructed and designed in such a way that it looks like the world map. Developed by the Nakheel Properties, a branch of the Dubai World conglomerate, the World Island project aims to offer their visitors an unforgettable and incredible experience that cannot be missed at any cost. A true engineering marvel, this artificial archipelago will never cease to amaze people and is expected to attract millions of visitors from all over the world in the near future.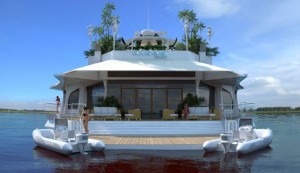 Mexcaltitan (Mexico)
Located off the coast of Nayarit in Mexico, Mexcaltitan is a small artificial island built by the ancient Aztecs. This little prehistoric man-made island is now a major tourist attraction and is also known as Pueblo Magico in Mexico. The sight of this island will truly amaze you and will also make you wonder how it was built thousands of years ago with those limited ancient technologies.
Orsos Island
This is an artificial floating island developed by an Austrian firm and is installed with two diesel engines to allow you to take your island wherever you want. This oval shaped island offers you a luxury living with its six bedrooms spread over three floors and the entire island cover an area of around 1,000 square meters. Priced at $6.5 million, this luxurious man-made mobile island seems worthy of its prices if compared with the highly expensive yachts that are not even half as big as this floating mansion.