If you really want to make heads turn with your prom entry and make a splash with an outfit that has zero chance of being worn by someone else, creative and crazy DIY prom dresses are always your best bet! There are many who have not only become the high school stars but won money, fame, contracts with companies and immense online fan following with their incredibly designed out of the world prom dresses. Here's a glimpse of the 5 Most Incredible prom dresses in the world: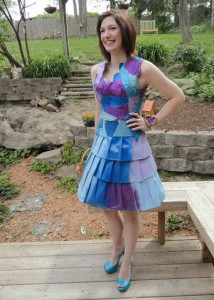 Starburst Candy Wrapper Prom Dress:
The Wisconsin teenager Tara Frey made waves with her fun and unique prom dress made wholly out of Stardust candy wrappers! An incredible prom dress, Tara and her mother spent six years in collecting starburst wrappers and weaving the multicolored pretty dress out of it! And what's more, the dress was uniquely accessorized with starburst shoes and clutch!
Recycled Cardboard and Paper Bag Prom Dress:
Maura Pozek, a seventeen year old Reeds Spring high school senior has been constantly in news with her incredible DIY prom dresses year after year.  After becoming the talk of the town with her 1st year prom dress made solely out of Dorito bags and about 4000 soda tabs, her senior year prom dress was an even more outstanding splash of blue and purple hues. Incredibly crafted out of cardboard and paper bags, her unique ensemble consisted of a cardboard corset top coupled with a three tiered pleated skirt made from paper bags spray painted all over!
Duct Tape Dress and Suit
The June of 2012 saw Brooke Wallace and date Mark Aylward become finalists in a duct tape prom contest held nationally for their incredible duct tape attires! Spending roughly 200 hours, Wallace had crafted the entire gown, suit and shoes from duct tape which had taken the entire prom scenario by storm!
Gum Wrapper Prom Dress
Elizabeth Rasmuson, the Iowa teen made prom-time headlines with her unique dress created out of blue and white Wrigley's bubble gum wrappers coupled with a matching vest for her boyfriend! A one-of-a kind bubbly dress with the gum wrapper bodice intelligently finished with a vinyl top coat,  this finds special mention in our Incredible Prom Dress list!
Tea bag Prom Dress
Last but not the least, mention must be made of Angela Bright's incredible prom dress created from used tea bags which made headlines and travelled to international galleries all over the world!