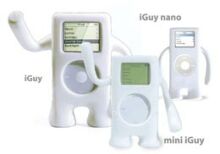 Here is a pal for one of your most loved gadget who sings for you whenever you want him to. Ya I am talking about your iPod and here is a cute and really unique case for it. iGuy is a trustable thing which offers docking capability and allows you to hang around freely while your iPod charges. iGuy has rubberized body and screen protector ensures iPod's safety.
On the first look it looks more of a toy which is bendable and has poseable arms. Comes with a removable screen protector. Fits well to all popular iPod models.
It is fairly priced at $34.99.
Read More Think Geek