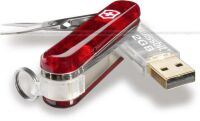 Amazing new s.beat allows you to peal an apple and listen to music at one time with the same time. Yeah! S.beat is a USB storage device, a MP3 player incorporated in a Swiss Army Knife. This metallic knife and MP3 player copmes with a life time warranty.
Its comes with a high contrast backlight LCD, speakerphones and Swiss Army Knife tools like screwdriver, nail file, scissors etc. isnt't it really cool.
As I have told you before it's a USB storage device it allows you transfer your data by hust pluging it into a USB port. Available in 3 different storage capacity (1GB, 2GB, 4GB), this music players comes with a built in FM radio, voice recorder and can store music files like other music players. It supports MP3, OGG, WAV and many other formats.
Via Giz Mag