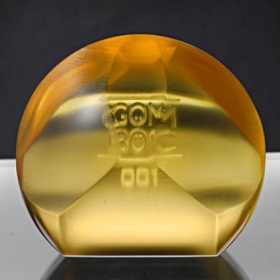 Almost everyone knows what Weebles are, if not by name then I am sure that you have seen it once in your life. Weebles are toys which never fall due to the extra weight at bottom end. But, those are not what we tend to discuss.
The Gömböc is something that is able to correct its position to one stable point, every single time it is disturbed. It is first self-righting object with consistent density. There are 2 equilibrium points on it but one is located on the top which is as thin as pencil tip, so only other one acts as stable base.
The Gömböc's plastic version is being sold with special serial numbers from 2 to 2007. 2006 is priced at 1000 EUR though one with serial 2 will set you back by 100900 EUR.
I'd loose my own balance if I spend so much money on this item.
Via: GOMBOC