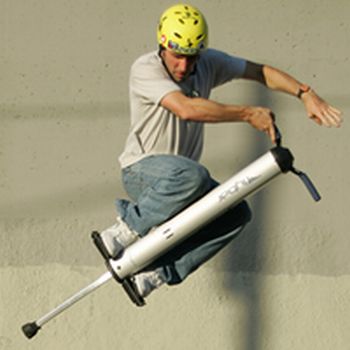 The pogo-stick has finally arrived to the 21st century. From being a balance-challenging toy, the pogo stick has been transformed by Flybar to a gravity defying sport that can bounce up to 4 feet in the air.
The Flybar works on an adjustable rubber spring system, powered solely by leg strength and body weight. The spring system can be instantly adjusted to adapt to body weight, skill level and terrain. It is ideally suited for body weight up to 180 pounds.

The eight elastomeric or rubber thruster will allow thrusting the body up to a height of 4 feet. The lightweight aluminum Flybar has been described by its manufacturer as a 'pogo-stick on steroids'. If you are interested for an adventure on Flybar, then be prepared to spend ₤149 for the item.
Source: boys staff