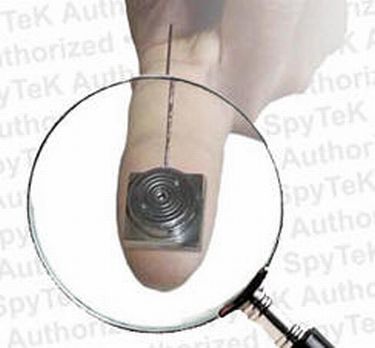 If the little object that you see in the picture intrigues you, let me inform you that you are viewing FingerCam, the world's smallest wireless color video camera. Small means actually tiny, as it's size is equivalent to that of a US dime. You can place it on your fingertip with room enough to spare, as you can see in the picture.
It doesn't tag along a multitude of wires and thus can be concealed with ease. Hide it in any appropriate place, be it a clock, lamp, radio, bag, purse, cell phone, or any thing that you can think of. Not only this, it can be easily used with any kind of tiny video recorder.

The camera requires a massive 9V battery pack to power it up, so hiding it would be a little tricky on that front!
Price: $95.00.
Via: Redferret