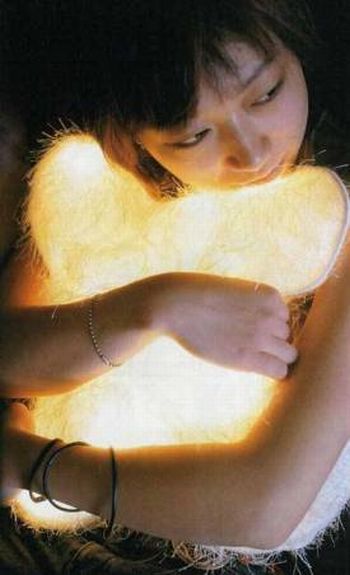 You have cushions of course. Who doesn't? And you have lighting in your house. But do you have a product that serves both purposes? Bet you haven't seen anything like this before!
Designer Diana Lin has come up with a surprise–The d°light Huggable furry pillow! It's everything that a cushion must be – 100 percent polyester, soft, huggable and cozy. And on top of that, it glows!

The secret behind this is a series of 12 LED lights embedded within American-standard food-safe silicone bubbles. This cushion can glow brightly for around four hours on four AA (2500 mah) batteries at a stretch, after which it dims gradually. You can switch it on or off by pulling the chain switch. It comes with 5 Volt AC/DC adapter. Being a size of 12.5″ x 12.5″ x 6″ (31.75cm x 31.75cm), it is perfect to curl up with. The design is trendy and stylish, yet very practical
It's soft glow makes it a suitable night light. It can even add a touch of romance to everyday conversations. It can serve as sunshine during dark winter days.
Take your pick from white, gold and pink-which ever you think will go well with your home decor.
So go ahead, order one of these and light up your lives!
Source: Bizzntech