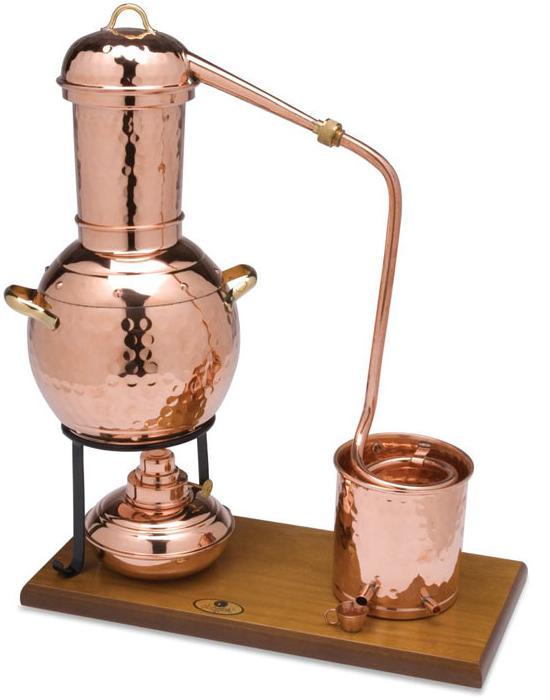 Hey, here is an exciting news for all you people out there interested in smelling good! Yes, I am speaking about perfumes but I won't ask you to buy it as usual but I will help you in preparing perfumes on your own! The experiments should be carried over using the amazing 'Copper Alembic Perfume Distiller'. Before checking the procedure, first let's have a look at when and by whom this all was started.
This creative and never ending experimentation started sometime in 1853 in the Iberian Peninsula by Al-Ambik, makers of fine distilling instruments. This copper alembic distiller is reminiscent of those used for over 1,200 years to extract essential oils from plants for use in perfumes.
Now let's check out the procedure of preparing scents on our own step by step!

1) First place water and fragrant plant leaves (such as lavender, peppermint, or thyme) into the 2 2/3-quart cucurbit.
2) Then light the oil lamp and place it under the cucurbit.
3) As the water boils, steam extracts essential oils from the plant and fills the vessel with oil vapor.
4) Then the oil vapor passes from the cucurbit through the swan-neck tube and once it reaches the water-filled condensing pot, it is cooled and converted into a concentrated liquid.
5) The last step is where you get the perfumes as the aromatic oil is deposited into a copper cooling cup.
The dimensions of this copper alembic distiller are 11 3/4″ H x 13 3/4″ W x 6 3/4″ D. It weighs 4 1/2 lbs and costs $349.95.
This reminds me of the aladdin's lamp, even though a ginn won't come out of it, but this'll surely help in ongoing extraction of various scents! Bring this home from here just for once so that you can go on experimenting with some wonderful perfumery!