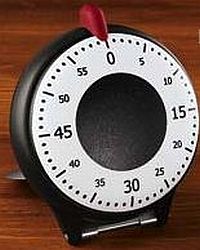 We really like all things that twist and turn and fold up in themselves, don't we? And this neat little timer, cute and charming as it is, is a welcome new addition to our counter-tops.
I don't know, how many people are fond of carrying timers in their bags with them all the time, but even if it's a one in a hundred, that's good enough for the creators of this foldable timer. The cover folds back from this stainless steel timer and it makes a quaint stand.
The big, clear numbers on this 60-minute dial make you utilize every precious minute of your time. The timer rings a warning 30-second prior to your pre-set alarm so you can efficiently keep track of the remaining seconds.
Priced at $17.99, the timer is 3-1/2″ in diameter and 1-1/2″ wide.
Source: Book of Joe